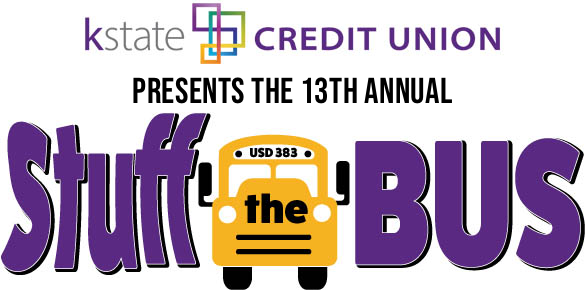 Stuff the bus at Walmart in Manhattan July 18th, 2020 from 10a-3p!
Stuff the Bus 2018! It was awesome to be a part of this event again this year. Big thanks to the K-State Credit Union and everyone who came out and donated!

Posted by 1015 KROCK on Sunday, July 29, 2018
Click below to view a list of needed supplies for each category.
Backpack (elementary size)
Backpack (high school size)
Supply box
Pencil bag
Pencils (24 ct)
Large pink erasers
Dry erase markers (black or dark colors)
Finepoint black permanent markers
Crayons (24 ct – prefer Crayola)
Markers (8 or 10 ct)
Glue sticks
Headphones
Earbuds
Watercolor paint (8 pan – prefer Prang)
5″ scissors
7″ scissors
Ziploc bags (qt or gal)
Pocket folders (3-hole punch, no prongs, any colors)
Spiral notebook (wide rule)
Spiral notebook (college rule)
1-inch 3-ring binder
1.5-inch 3-ring binder
Tabbed Dividers
Colored pencils (12 ct)
Liquid Glue
Highlighters
Composition notebook (100pg/wide rule)
Composition notebook (100pg/college rule)
Filler paper (wide rule)
Filler paper (college rule)
Basic calculator
Scientific calculator (TI 30X IIS)
Compass
Protractor
Inexpensive Flash Drive
3×5 Index Cards
Zipper Binder (AKA Trapper Keeper)